Connection Focused Therapy® is a multidisciplinary modality designed to help people become empowered as individuals while learning to support, collaborate with and draw strength from loved ones, peers and communities. This process not only helps individuals recover from trauma and re-group after disruptive or traumatic experiences, it gives families the skills they need to handle crisis, uplift each other, and thrive long term.
Connection Focused Therapy® can also be used to prevent trauma and violence. In this context, families, educators, first responders, law enforcement personnel, health care workers and social service providers learn the innovative, emotionally and socially intelligent skills needed to calm, focus, and gain the cooperation of frightened or aggressive people. This form of training is particularly beneficial for the parents, spouses, and teachers of highly sensitive, naturally dominant, and/or potentially explosive children and adults. Families faced with the challenge of supporting a member who has difficulty managing his/her emotions and/or controlling his/her behavior learn the non-predatory power, leadership, verbal and nonverbal communication skills needed to help individuals develop greater self-awareness, self-esteem, self-mastery, empathy, and cooperation.  
This modality—developed in 2013 by psychologist, author, and abduction/family reunification expert Dr. Rebecca Bailey, and author/equine-facilitated learning pioneer Linda Kohanov—combines animal-assisted activities, therapeutic interventions, relationship-building tools, and personal empowerment/life skills.
Bios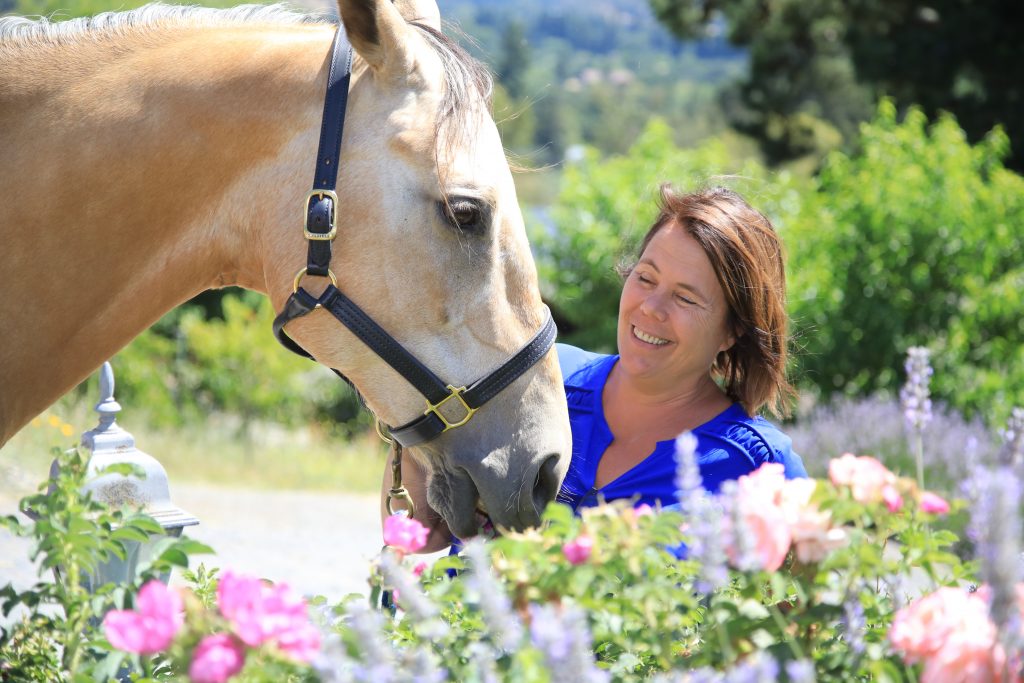 Rebecca Bailey, PhD, is a leading family psychologist and personal therapist. Co-author of the book Safe Kids, Smart Parents: What Parents Need to Know to Keep Their Children Safe (with Elizabeth Bailey, RN BC), she is frequently called upon as an expert commentator on CNN, Good Morning America, and other national news shows, including those hosted by Anderson Cooper, Diane Sawyer, Piers Morgan, and Katie Couric. The founder of Transitioning Families, Dr. Bailey has worked with police departments and the FBI to raise awareness and sensitivity to the issues that victims of rape, abduction, and other crimes face in surviving these extreme experiences, reuniting with their families, and healing over time. While she has worked with hundreds of individuals and families in crisis, she is best known as the highly skilled therapist who helped Jaycee Dugard reunite with her family after she was rescued from a highly-publicized 18-year abduction in California.
……………………………………………………………………………………………………………………………………………………………..
Linda Kohanov is an internationally-recognized author, speaker, riding instructor and horse trainer. She is a pioneer in the field of Equine-Facilitated Learning and a respected writer on the subject of Equine-Facilitated Therapy. In 1997, she founded an Arizona-based collective of horse professionals, educators, coaches and mental health professionals exploring the healing potential of the horse-human bond. That organization, now called Eponaquest Worldwide, has grown to serve clients on six continents. Her first bestselling book The Tao of Equuswas selected as one of the top books of 2001 by Amazon.com and received appreciative reviews in publications as diverse as Horse and Rider, Natural Horse, IONS Noetic Sciences Review, Spirituality and Health, and Strides. Four more books followed, including Riding Between the Worlds: Expanding Our Potential through the Way of the Horse, Way of the Horse: Equine Archetypes for Self Discovery,The Power of the Herd: A Nonpredatory Approach to Social Intelligence, Leadership, and Innovation, and her latest The Five Roles of a Master Herder: A Revolutionary Approach to Socially Intelligent Leadership.Linda's books have been translated into French, German, Dutch, and Czech, and are used as texts at universities.
While Linda often works with horses to teach people advanced human development skills, she also has a gift for helping people take "horse wisdom" into the home, the workplace, schools, and other human environments, offering equine-inspired insights on relationship, leadership, non-verbal communication, creativity, power, spirituality, authenticity, healing, and balance.
She has appeared at numerous conferences and retreat centers, including the 2008 Organization Development Conference, the Omega Institute in New York, Naropa University in Boulder, CO, the 2005 International Transpersonal Conference, Hollyhock British Columbia, the 2003 North American Riding for the Handicapped Conference, and the 2008 Equine Guided Education Conference, among many other venues. Linda's seminars attract business leaders, entrepreneurs, educators, scientists, mental health professionals, artists, spiritual leaders, and activists from six continents.