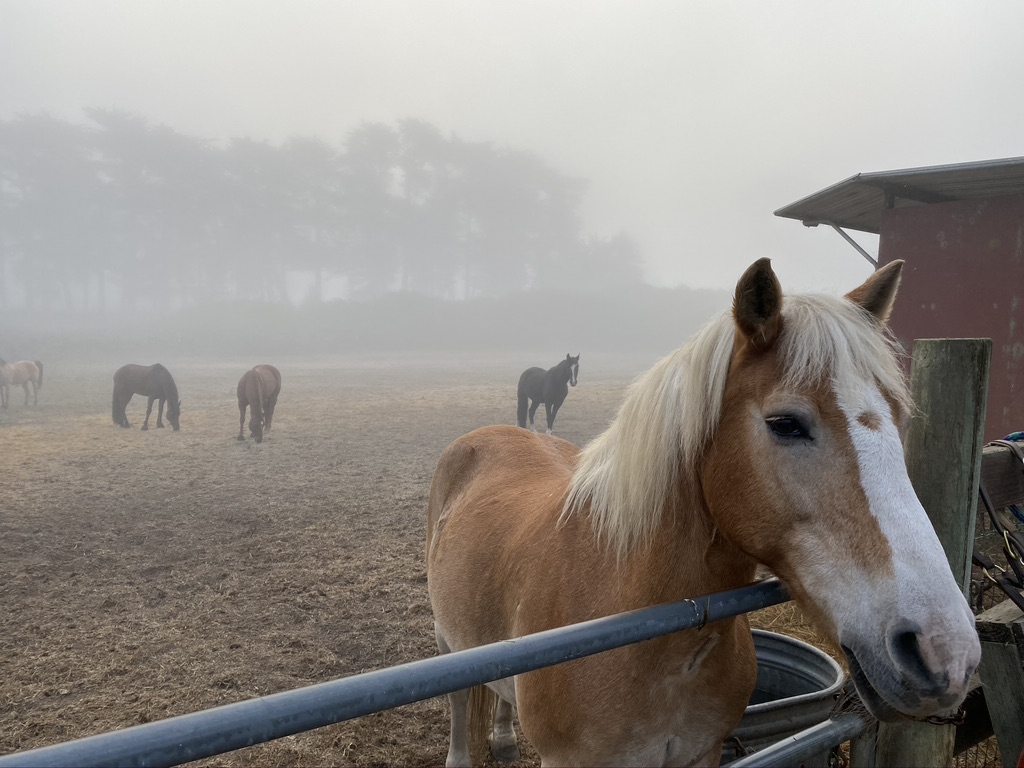 Led by two prominent innovators in the fields of equine-facilitated therapy and experiential learning, this training is for therapists, caretakers, and horse professionals working closely with therapists, who would like to learn advanced techniques for helping individuals and families with complex case scenarios. This includes post-traumatic stress from abuse, war, criminal acts, or accidents, high or low conflict divorce, and reunification/reintegration following familial or non-familial abduction. This program is not intended to be a personal development workshop or a therapeutic experience.
The first day offers an introductory overview of how horses help people deal more effectively with a variety of challenges. Participants will also learn core skills that prevent compassion fatigue, while nourishing personal and professional relationships. Discussions of relevant research and demonstrations of horse-facilitated activities will give participants an overview of the Connection Focused Therapy approach.
The second through fourth days will offer in-depth equine-facilitated learning activities for up to 12 people, who will be able to practice the skills introduced on the first day, and learn additional skills and models.
Psychologist, author, and abduction/family reunification expert Dr. Rebecca Bailey, and author/equine-facilitated learning pioneer Linda Kohanov team up to share the horse-facilitated activities, therapeutic interventions, relationship-building tools, and personal empowerment/life skills they've found to be highly effective in helping people heal from trauma and learn to thrive in their relationships and personal lives.
Rebecca Bailey, PhD, is a leading family psychologist and personal therapist. Author of the new book Equine Connections: Polyvagal Principles, and Co-author of the book Safe Kids, Smart Parents: What Parents Need to Know to Keep Their Children Safe (with Elizabeth Bailey, RN BC), she is frequently called upon as an expert commentator on CNN, Good Morning America, and other national news shows, including those hosted by Anderson Cooper, Diane Sawyer, Piers Morgan, and Katie Couric. The founder of Transitioning Families, Dr. Bailey has worked with police departments and the FBI to raise awareness and sensitivity to the issues that victims of rape, abduction, and other crimes face in surviving these extreme experiences, reuniting with their families, and healing over time. While she has worked with hundreds of individuals and families in crisis, she is best known as the therapist who helped Jaycee Dugard reunite with her family after she was rescued from a highly-publicized 18-year abduction in California.
Linda Kohanov, author of five books, including The Tao of Equus (2001), and The Power of the Herd (2013), has worked with numerous mental health professionals over the years to offer equine-facilitated interventions to people in crisis, including rape and childhood sexual abuse survivors, veterans and their spouses, and families dealing with divorce, remarriage, troubled teens, suicide attempts, and other challenges. Since 2003, Linda has also trained over 300 professionals worldwide in the techniques she and her colleagues have developed since Eponaquest was originally founded in 1997 as a collective of counselors, educators and horse trainers.
In 2013, Rebecca and Linda combined their talents to develop a new approach to helping families recover from conflict, unproductive ancestral patterns, and traumatic events. Connection Focused Therapy® is the multi-disciplinary modality they created to help people become empowered as individuals while also learning to support, collaborate with, and draw strength from their loved ones, peers, and communities. In this effort, Rebecca and Linda have drawn upon the "wisdom and power of the herd," a phrase they use to describe therapeutic techniques and life skills inspired by how horses take care of individual and group needs simultaneously.
"Horses are herbivores, but they're not quivering, gutless victims," Linda reveals, drawing upon four years of research for her latest book The Power of the Herd. "Horses model nonpredatory power in action, working together to stand up to predators and protect vulnerable family members. Then, after the danger has passed, they all go back to grazing, back to enjoying life to its fullest. There's no question that humans in crisis can learn a lot from the courage, agility and peaceful engagement with life that horses embody.
"With the right support, people too can heal from traumatic experiences. Few therapists have experienced this more profoundly than Dr. Rebecca Bailey, who has spent over 20 years helping survivors and their families recover from the most extreme experiences you can possibly imagine."
In working together, Linda and Rebecca immediately found common ground—and not just in understanding how amazing horses are in assisting this process. These two seasoned collaborators also agree that deep healing happens only through nourishing relationships, through families and other caring social groups in which people are valued for who they are as individuals, while also knowing that their loved ones are capable of supporting them during the hard times, celebrating the good times, and fostering an underlying sense of peaceful connection, rejuvenation, and exploration in daily life. Connection Focused Therapy not only helps individuals process trauma, it gives families the skills they need to handle crisis, uplift each other, and thrive long term.
"Survivors need to define themselves by who they are, not what they went through," Rebecca emphasizes. "The scars of serious trauma can hold people back or become something they build upon and incorporate into new strengths. But people don't get better in a vacuum. This is definitely what brought Linda and I together: An understanding of the interdependent nature of life and, consequently, healing. From this perspective, it becomes clear that families, communities, and other social systems can promote growth and transformation—or reinforce fear, hate, resentment and depression. Families are a lot like herds. They're impacted by each other, by the environment, and by the events that touch their lives. In order to help people move beyond challenging circumstances and thrive, you have to consider all the systems and their interplay. Giving people the support, and the skills, to reconnect to each other is crucial."
As an expert in family reunification following, in the most extreme cases, abduction and sexual abuse, Rebecca was particularly intrigued by Linda's fourth book The Power of the Herd, not only for its emphasis on social intelligence and authentic community but for its unprecedented insights into nonpredatory power. "The people I work with have dealt with some of the most vicious, self-serving human predators out there," the noted psychologist says. "Victims of predatory acts often have trouble reclaiming their own power because they refuse to adopt the cruel and manipulative images of power their perpetrators modeled—and rightly so."
In her work, Linda draws insight from empowered herd behavior to create tools for humans to excel in life and work. Rebecca immediately recognized that seeing the horse, not as a prey animal, but as a nonpredatory power animal that draws on the wisdom and support of the entire herd, offers trauma survivors and their families a metaphor for a new way of being successful in the world.
"Add to this, the actual interactions with living horses that Rebecca and I have developed separately over the last 20 years, and now together," Linda says, "and you have a highly effective model not only of healing, but of true empowerment. Equine-facilitated activities—combined with therapeutic interventions and life skills training—allow the entire family to move forward with a winning combination of personal confidence and sensitivity to the needs of others."
Linda shared anecdotes of the healing effects of equine-facilitated therapy in her first bestseller The Tao of Equus. The author highly recommends reading Jaycee Dugard's memoire for a look at Dr. Bailey's approach to this same modality. "Toward the end of her book A Stolen Life, Jaycee shared some of the moving experiences she had working with Rebecca's horses," Linda says. "These therapeutic interventions helped Jaycee and her family cut through the insanity surrounding them in the weeks and months after a highly publicized rescue from the man who abducted her, a time in which the press was acting in predatory ways as well."
"I'm so pleased that Rebecca and I can share these specialized tools and horse activities with other therapists, horse professionals, parents and other caretakers who work with trauma survivors and families in conflict," Linda says. "In dealing with complex case scenarios, Rebecca really knows what works therapeutically, and what doesn't. She knows how to deal with law enforcement, and how to handle the intensely opportunistic press that can further traumatize survivors in high-profile cases. She also knows what therapists face personally when working with these populations. Over the years, she has learned how to handle her own responses to the horrific experiences her clients must share with her. These are all topics that we will cover in our workshop, in addition to teaching horse-facilitated activities and emotional and social intelligence skills that help families work through their differences and draw upon each other for support, healing, and renewal."
COVID-19 Protocol Requirements: Covid-19 compliant face coverings are required at all times.
For More Information on the Workshop Contact: info@eponaquest.com • 520-455-5908
Cancellation Policy: Cancellation up to 30 days prior to the event start date results in a credit of one-half the workshop tuition. There is no tuition credit for a cancellation 30 days or less before the event start date.